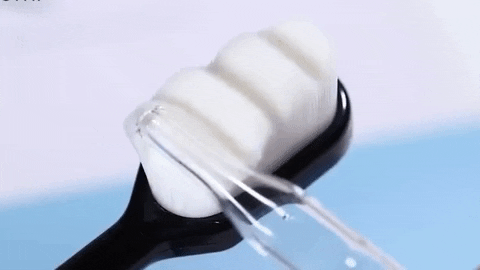 Brighten your smile with healthy white teeth! With 11,730 ultra-fine bristles (per brush) you are able to deeply clean every corner of your mouth with ease. Believe it or not, but hard bristles have the tendency to damage your enamel, making your teeth more prone to bad cavities. This is the exact reason that we've created the Neo™ Toothbrush... it's time to put a stop to the "dentist funnel".
The Ultra-Fine Soft Toothbrush is unlike any ordinary Toothbrush. The Ultra-Fine Soft Toothbrush can cover more surface area of your teeth due to each individual micro fiber bristle. Now you can be confident in knowing that you've taken care of every crevice in your mouth along with remaining food residue, bacteria, plaque, and stains!
Our Ultra-Fine bristles are scientifically designed to deeply clean the gum line and inter-proximal areas between your teeth without irritating or abrasing the gums.
Features:
Good Bye Aggressive Brushing!

 

The Neo toothbrush was designed to reduce pressure while brushing in order to avoid enamel erosion.
Healthy White Teeth.

 

Over 10,000 ultra-fine bristles for effective deep cleaning of teeth.
Healthy Gums? CHECK! Our micro bristles are super effective for your gum and enamel health.
Ultra Soft & Fine Bristles

 

allow for deeper penetration.
Safe Material.

 

Our bristles are crafted from ultra-soft, anti-bacterial nylon, and our handle is 100% BPA free.
Package Includes: 1x Toothbrush