Customisable Full Color LED Face Mask
In which you can become any character of your choice and express yourself through many faces!
The What's Your LED Mask features over 2,000 full color LEDs! Our What's Your LED Mask is USB chargeable! The power run time on a full charge is 12 hours of creative fun!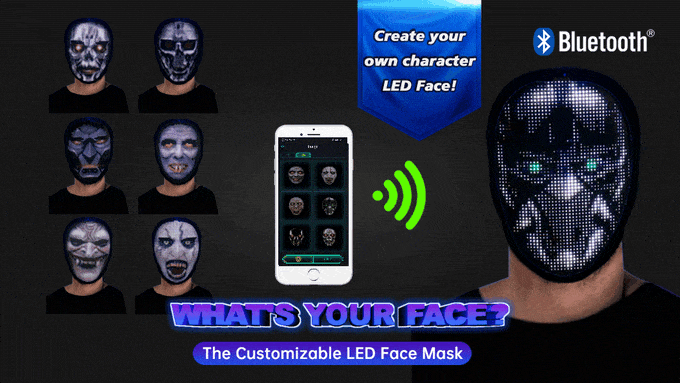 One size fits all

Charging Type:
Product size: 22*18*5cm
Charging time: 5 hours
Type-c charging: 5V/1A
Use time: 12 hours
Battery model: 103450 polymer
Support language: 10 kinds
Battery capacity: 2000 mah
Pixels: 46*58 (irregular)
Lamp beads: 2121RGB lamp beads
Number of lamp beads: 2074pcs
Color box size: 257*215*93mm
Material: ABS plastic+PVC lens+silicone
Product net weight: 303g
Product gross weight: 802g
Product pattern: 45 dynamic pictures 70 static pictures

Battery Type:
Product size: 22*18*5cm
Use time: 10 hours
Power supply: 3 AA batteries (Not included)
Support language: 10 kinds
Battery capacity: 2000 mah
Pixels: 46*58 (irregular)
Lamp beads: 2121RGB lamp beads
Number of lamp beads: 2074pcs
Color box size: 257*215*93mm
Material: ABS plastic+PVC lens+silicone
Product net weight: 277g
Product gross weight: 776
Product pattern: 45 dynamic pictures 70 static pictures

Package included: 1 * Face Mask