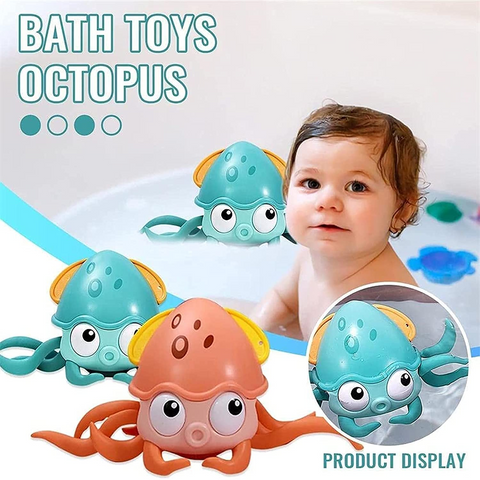 Cute Toys Design: Bright colors and cute appearance design, easy to draw your kids attention, fun bath toy to entice your child into taking baths. It can crawl for a certain distance after letting go!It can not only crawl on land but also swim in the water for a while.
Non-Toxic Material: Clockwork octopus is made of environmentally friendly ABS,. The edge of the children's sprinkler toy is very smooth, non-toxic, odorless, safety durable with will not fade. cute design and suitable size for baby little hands.the toy helps to train children's tactile cognition and hand-eye coordination during the playing process.
Exercise Hands Ability: According to help octopus wind-up, not only can exercise the baby's hands activity ability, but also can improve the coordination of hands and brain.learning from playing, it is a good choice for early educational toy.
Easy To Use: The clockwork driven! twist the grip behind the octopus tummy clockwise and the cute octopus will swim quickly in water around your kids.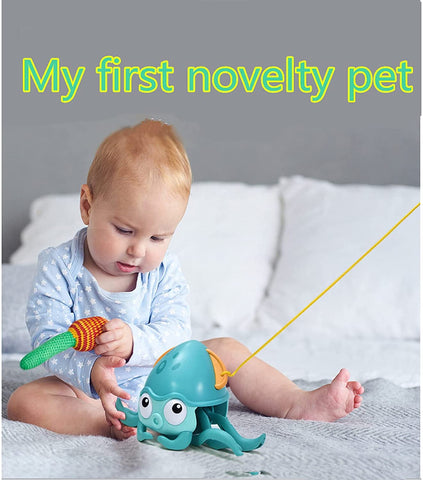 Material: ABS 
How to play: Turn the chain in a clockwise direction. Do not use too much force to prevent damage.
Note: 
Crabs can only walk under the traction of rope on the land ( clockwork Can't be used)
You put the crab in the water and rotate the clockwork to swim (the water should be as deep as possible)