Our products are as advertised, Equipped with a pole, Please rest assured to buy. Restore all the details and sizes of the real bird!
Windmills have flexible joints, so they can swing with the wind even when the wind is light
This large piece is very cool to watch rock back and forth. When the wind hits it it begins to rock, and when it does, the wings slowly flap up and down as if the eagle were in flight.
The piece is very well made. The wings move on bearings, so there is no metal on metal movement there. The eagle sits on top of the stake, but is also secured with a bolt. The entire stake has a large 6 pointed stake to keep it well secured in the ground. In addition, it is very well weighted, the balance ball under the eagle is completely solid, and adds a large amount of weight to hold the piece down.
Further, it is also multi-level powder coated to allow for safe outdoor use and protection against the elements. Our customers have used this piece not only as decoration, but also in their gardens to scare intrusive animals away.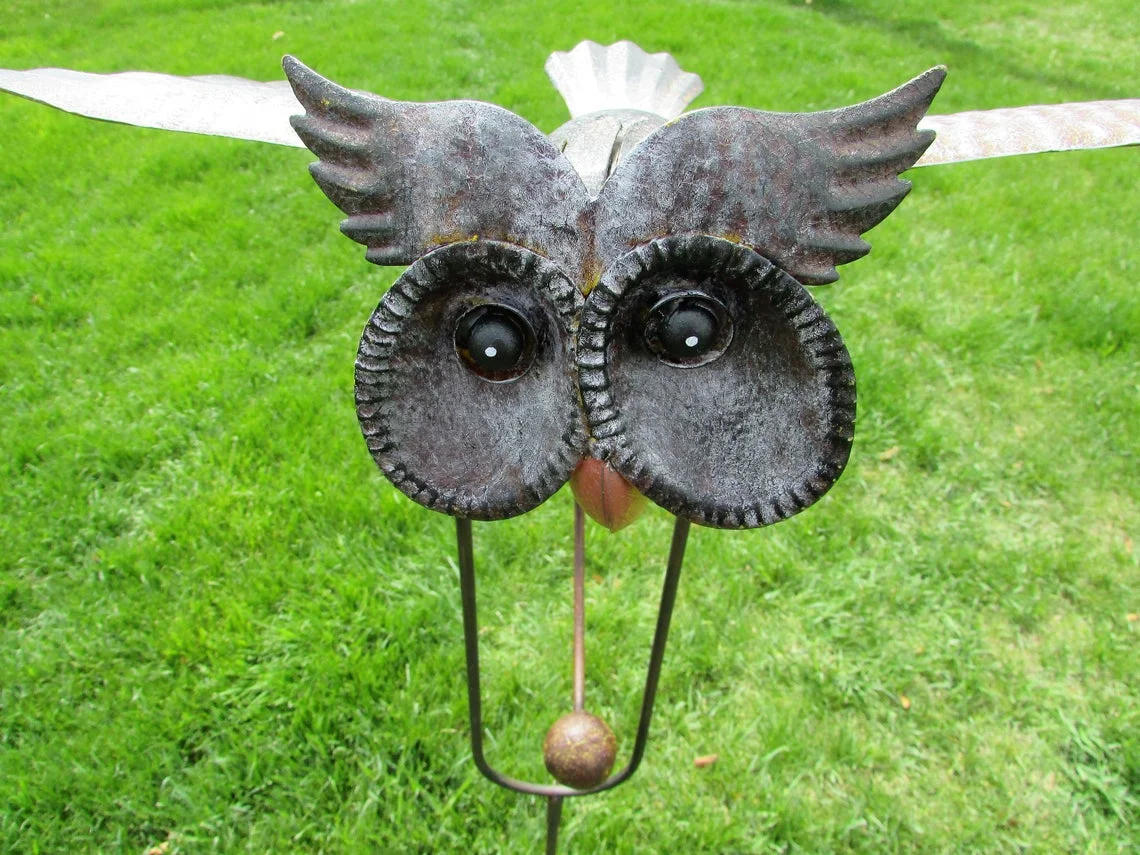 Each piece is handmade, so sometimes there are some differences from the picture, please forgive me.If you are not satisfied with all the colors we designed, you can design your own colors and send them to us by email. We will adopt your opinions and quickly make new color products.
Including the stake they are between 25 and 45 inches.

For the length of Bird balancer, please refer to the following figure
Product Description:
28.15 inch Tall "Antiqued" Metal Owl Yard Art.
Size:71.5x23x14cm/28.15x9.06x5.5in. (Approx)
Owl Does Not Spin, Wings-Flap In The Wind, Rocks Back and Forth Equipped with a pole.
Hand painted and polished. Color Tone may vary.
Windmills have flexible joints, so they can swing with the wind even when the wind is light.
When the wind hits-it it begin to rock, and when it does, the wing slowly flap up.
Product include: 1x Flying-Eagle
Please note, color may be different then as you seen.  
A perfect product
Great quality!
The parcel was brought by The Courier. The fish is quite heavy, it rings as well as on the seller's video. Anyway, I like it. To the seller Thank you and success in business.
Super beautiful in addition it is heavy which explains the robustness of the article super glad to have it