Feature:
EFFORTLESS & ERGONOMIC: Lifesaver. Designed with Lever Principle: input a little force produces a huge output force to twist off lids, suitable for weak hands, elderly or hand with arthritis, children, those working in kitchens.
V SHAPE & EASY TO USE: An easy-to-use bottle opener is a great kitchen helper. Design in V shape, when opening a bottle, it automatically grabs the lid!  Open the stubborn can or plastic bottle, pull out the pull ring, remove the cap and the safe seal.
DURABLE AND COMFORTABLE GRIP & SCIENTIFIC LEVER: Anti-skid grip and screw on internal rubber internal grip screw cap, making it easy to use without efforts. A small amount of force will produce a huge output force.
CONVENIENT STORAGE: Design with compact, only occupy a little space in cabinets, and hang in kitchen anywhere! even it can fit in your pockets and travel everywhere with you. Small and exquisite.
Benefits
Open Stubborn Cans Effortlessly 
Great Kitchen Help
Elderly With Arteries Can Finally Open Cans
Easy To Carry Around
Features & Specs
Non-Slip Handle
Fits Most Jars (1 inch to 3 inches (25 mm to 75 mm)
Dimensions 7.56 X 3.54 X 0.67 Inches
Light Weight 2.08 Ounces
JCECOP Manufactured 
Usage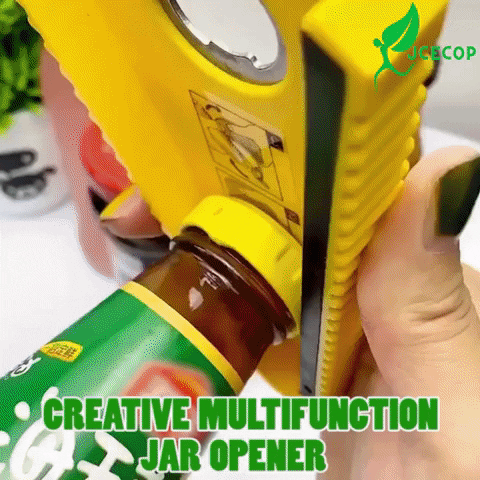 Product information
Product Dimensions:1 9.2 x 9 x 1.7 cm
Item Weight:80 g